If the Xiaomi Mi Band 2 won you over, buckle up for the grand arrival of its successor. The Mi Band 3 was spotted on the wrist of the CEO of Xiaomi and now we've even had a sneak peek at the user manual to see the design. Will it be able to impress with a hard-to-beat price like the Mi Band 2?
Choose "No, I'm relaxed." or "Yes, I'm worried.".
Oops! Seems like something went wrong. Reloading might help.

No, I'm relaxed.

Oops! Seems like something went wrong. Reloading might help.

Yes, I'm worried.
Xiaomi piques users' curiosity…
On April 13, during the launch event of the Xiaomi Black Shark, a smartphone designed for gamers, the CEO of the Chinese brand showed up with an unusual smartband on his wrist. Considering the size of the display, there is no way it could be the Mi Band 2. And let's face it: it would be rather strange to see the CEO of Xiaomi take part in such an event wearing a smartband by the competition.
@xiaomi your CEO was wearing it during BlackShark launch. Mi Band 3 pic.twitter.com/YAgVrNK0TF

— Asif Bhat (@iamA7iF)
April 29, 2018
On April 29, Xiaomi published a new post on Twitter, showing a wearable in the shadows: 
Can you guess what it is? pic.twitter.com/EstUJDUIff

— Mi (@xiaomi)
April 29, 2018
Is Xiaomi just messing with us, or could this really be the Mi Band 3? This could be a modified render of the Mi Band 2 that tries to hide the circular physical button at the bottom of the screen. Or it could truly be the Mi Band 3, which should integrate a touch screen with support for gesture control. 
A conservative design
Pictures have surfaced showing pages from the instruction manual of the Mi Band 3, the long-awaited new smartband from Xiaomi. Inside there are no photos but diagrams that show the design. Don't expect anything revolutionary from the new generation: the body of the new Mi Band 3 is very similar to that of the Mi Band 2 (some might say far too much).
A small difference can be seen in the more rounded lines of the display which should be touch-sensitive, but the new band appears to retain the characteristic key on the front.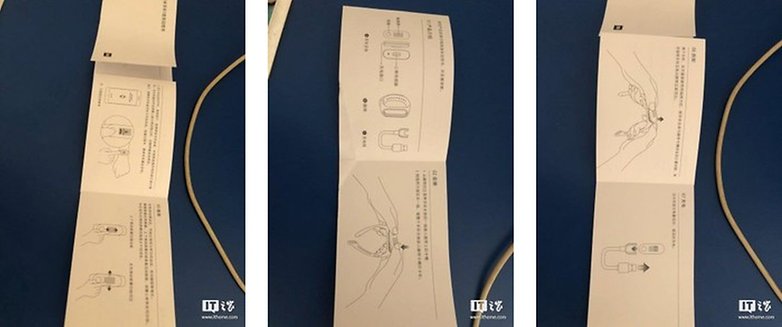 The display can be removed from the strap for charging. Other leaked features include support for Bluetooth 4.2, NFC and IP67 certification of water and dust resistance.
When will it be released? And for what price?
The Mi Band 3 could be presented on May 31 in China, along with the Xiaomi Mi 8. The price? We hope that it will remain below 30 dollars, not least because this will mean that the Chinese producer will not have to worry about competition in that price range.

Thanks you for your visiting on this page Mi Band 3: the next Xiaomi smartband design revealed
For more details about this post, please visit the source link here: https://www.androidpit.com/xiaomi-mi-band-3-price-release-date-specs-features