How do I update WhatsApp?
Get WhatsApp updates from the Play Store
The easiest way to update WhatsApp is through the Play Store, where updates will work their way to you automatically. Make sure it's not waiting for an update by opening the Play Store, pressing on the trio of lines in the top left to open the menu. There, select My apps & games and see if it's listed at the top of the screen.
Get the WhatsApp beta through the Play Store
So you want all of WhatsApp's new features? To get beta versions of WhatsApp through the Play Store, you can sign up here, and then you'll have the latest WhatsApp upgrade before all your friends do.
How to get the WhatsApp APK
If you want to update to the new version of WhatsApp manually, you can download the latest version of WhatsApp by visiting the WhatsApp update download page, or you can download the WhatsApp APK through APK Mirror, where the latest version is always uploaded (including beta builds).
Download the latest version of WhatsApp:
Download previous versions of WhatsApp:
How to install WhatsApp APK
To install an APK, make sure you head into Settings > Security > Unknown sources and ensure the toggle is on. Then, press on the downloaded APK file and follow the instructions to install. It's that easy.
For a more detailed explanation of what APKs are and what to do with them, take a look at our dedicated page. If you ever encounter problems with the APK, you may still be able to download an older version of the WhatsApp APK, which may solve the issues or bugs you encounter.
What's new in WhatsApp+
Available now: Send any file type
Until now, for no apparent reason, file transfers on WhatsApp were limited to only specific file types. Aside from common video, image and audio formats, you could already send documents, presentations and PDFs, but now WhatsApp has decided to change things up. Users will soon be able to send any file type (like PSD or APK files).
Don't get too excited, though, as the file size will be limited. iOS users will get preferential treatment with 128 MB as the maximum, while Android users will be limited to 100 MB and WhatsApp Web users will get just 64 MB. These limitations may be put in place to avoid overloading the servers.
The update is now rolling out to everyone. Have patience, as it's sure to reach you soon. Happy Snapping!
Pin conversations with WhatsApp Messenger version 2.17.264
WhatsApp now offers you the ability to pin conversations, both for your group chat and for classic conversations. This can be very useful if you receive a lot of messages from different contacts: you can keep an eye on your favorite contacts so that they will always appear at the top of your list of recent messages. To do this, simply display your chat window and long press on the one you want to pin, then you just have to press the pin symbol to set it. There is a limitation though: you can pin only 3 conversations. Yes, it's a shame, but it assumes you have no more than three favorite conversations to pin on WhatsApp.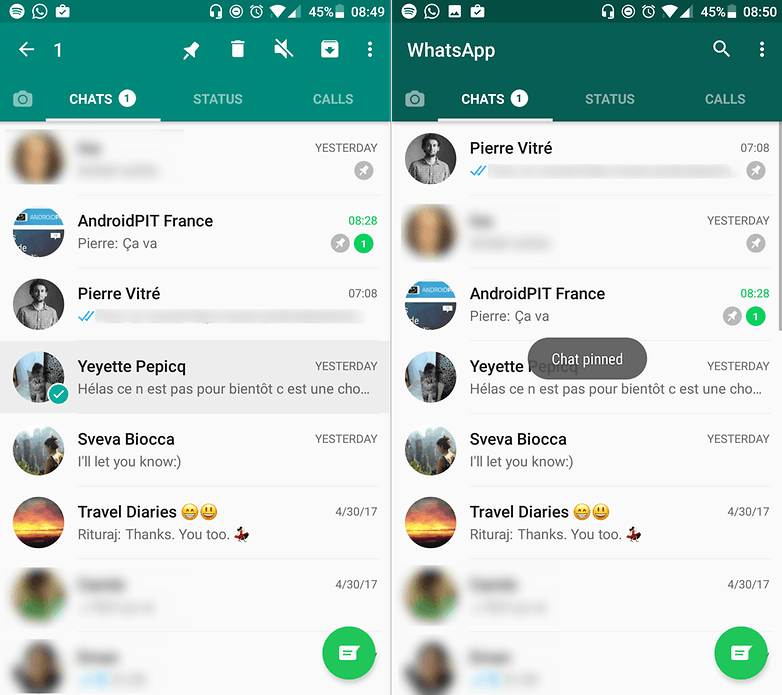 Translate and format font with bold and italics with WhatsApp Messenger version 2.17.149
Now you can format your messages on WhatsApp. The new feature allows you to make your messages bold or italic on WhatsApp. Just select the text you want to format, press the three dots on the right, and then select bold, italic or any of the other options that suit your tastes. Or, you can choose to translate the text to another language right inside the app.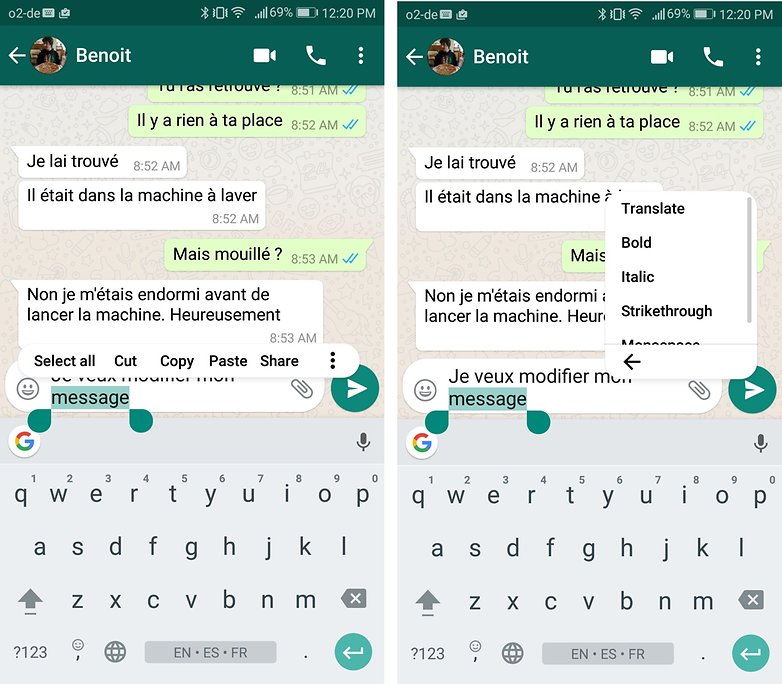 Send multiple contacts at once with WhatsApp Messenger version 2.17.125
WhatsApp now allows you to send multiple contacts at once. Simply go to your chat window, click on the paper clip on the bottom right, then select Contacts. You can then choose the different contacts you want to send, then confirm.
Send text statuses again and GIFs with Gboard with WhatsApp Messenger version 2.17.110
If you are using Gboard, you can now send GIFs to WhatsApp directly from this keyboard. Enter WhatsApp, and instead of selecting the emoji icon, then enter the GIF menu. Choose the GIF you want by searching, then select and confirm to send.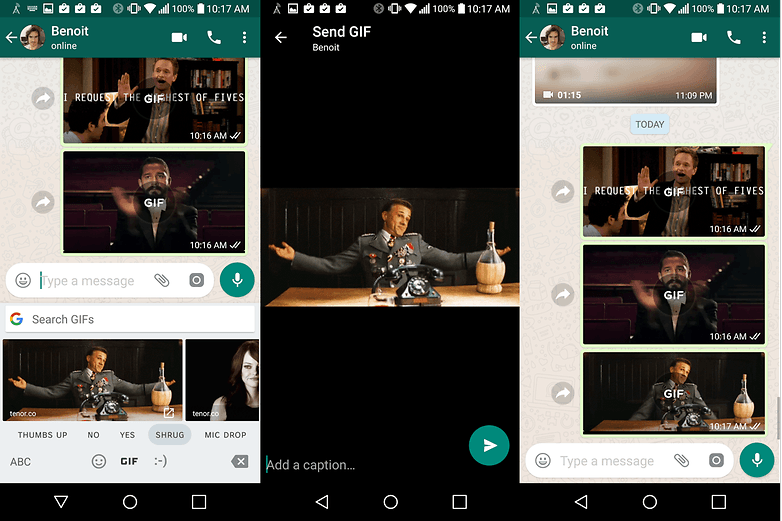 Recently, WhatsApp implemented Stories, which were similar to Snapchat. This move has been heavily criticized by users, who not only accused WhatsApp of copying the competition, but also hated the disappearance of written statuses. Well, WhatsApp has compromised: the text status is back, but the new Snapchat-style stories statuses are here to stay.
New design changes with WhatsApp Messenger version 2.17.93
With version 2.17.93, there are new design changes in the app. When you enter a conversation window, you can find the paper clip icon (which allows you to attach files) at the bottom, in the input field, rather than at the top of the window.
WhatsApp also has separate icons for voice and video calls. Until now, you only had one button, and after pressing it, you had to choose what type of call you want to make. Now you have two buttons at the top of the window: one for video calls and the other for audio calls. To the right of them, the familiar three dots remain.
Snapchat-style statuses with WhatsApp Messenger version 2.17.73
Unable to buy Snapchat, Facebook is trying to copy its features in WhatsApp Messenger. Text statuses have been a part of the app since 2009, but now you can post photos with emoji, text, sticker and more as our status.
Each part of your WhatsApp Status is visible for 24 hours. You can choose who can see it and who can't in the settings. In short, if you are familiar with Snapchat or Instagram, you'll get the hang of it quickly.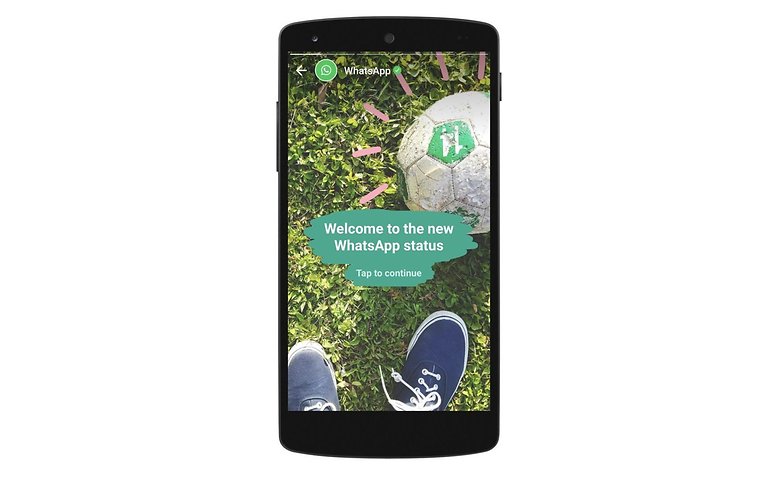 New emoji with WhatsApp Messenger version 2.17.43
This update allows you to see new emoticons, such as a clown or a "facepalm" (someone hiding his head in his hands, looking displeased). Older emoji have also been improved, the moons for example.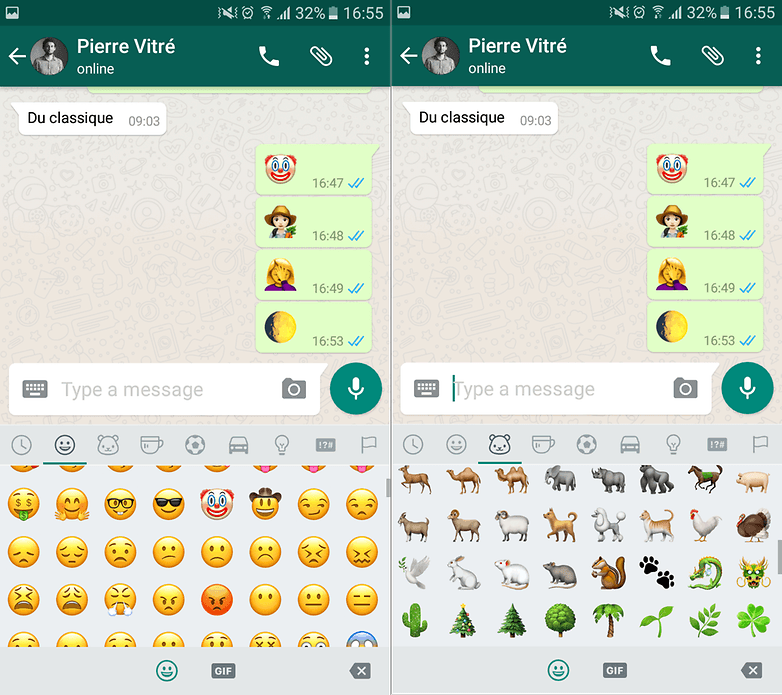 Delete and edit sent WhatsApp messages with WhatsApp Messenger version 2.16.399 and up
Now users have the ability to delete and edit sent messages. The only condition is that the recipient must not have read the message yet. Another new feature makes it possible to share your GPS location. These features are hidden in the beta and require root plus a special procedure to activate.
2.17.3.28 iOS | 2.16.399+ Android: Live Location feature, that tracks the live location of other group participants (DISABLED BY DEFAULT). pic.twitter.com/pYEXT1nxyR

— WABetaInfo (@WABetaInfo)
January 26, 2017
Send Tenor and Giphy GIFs with WhatsApp Messenger version 2.17.6
WhatsApp has integrated a new feature, searching for GIFs through Tenor and Giphy. Just search for a keyword, select a GIF you like and then send it.
Play videos before fully downloading them with WhatsApp Messenger version 2.16.365
In order to offer users a better experience with videos, it is now possible to play a video without having fully downloaded it first. Watch the video as it downloads, just like streaming happens on YouTube.
Make video calls with WhatsApp Messenger version 2.16.352
Video calling capability is now enabled on all devices. To make a video call, just tap the video call icon at the top. This works with Android, iOS and even Windows Phones.
Add stickers, emojis, text and drawings to pictures with WhatsApp Messenger version 
2.16.291
With the 2.16.291 version of WhatsApp comes the ability to customize photos with stickers, drawings and emojis. The only thing you will need to use is your imagination. Once the app and conversation are open, click the camera icon, and select the photos you want to share with your contacts. Then you will have no choice but to try out the new icons available in the top bar.
In fact, you can click on the square to crop the photo, on the smile to access stickers, on the T to change the color of the text and a pencil to draw doodles. It is even possible to draw on videos.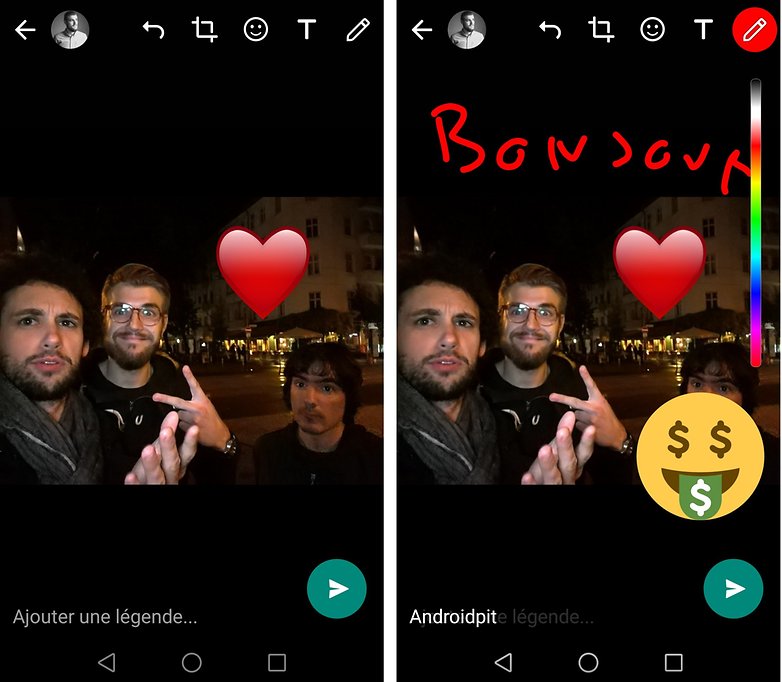 Make your own GIFs with WhatsApp Messenger version 2.16.242
Now you can make your own GIFs using videos and send them to your friends. Pick a saved video or shoot a new one, then use the paperclip icon to attach it to a conversation in WhatsApp.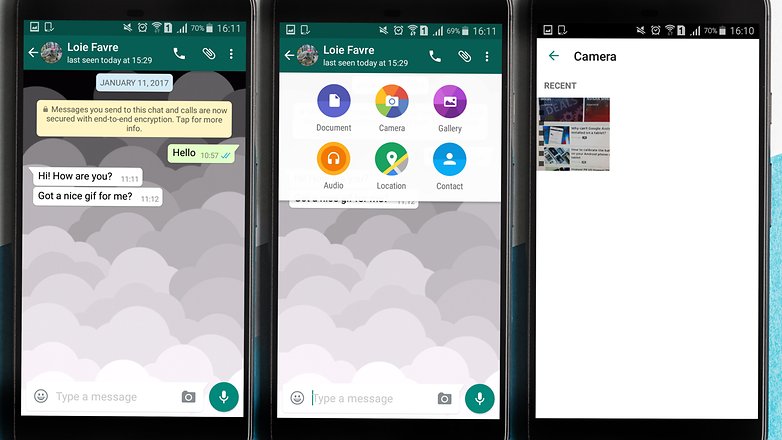 After that, trim the footage and tap the camcorder icon on the top right. Then, it will convert to a GIF you can send.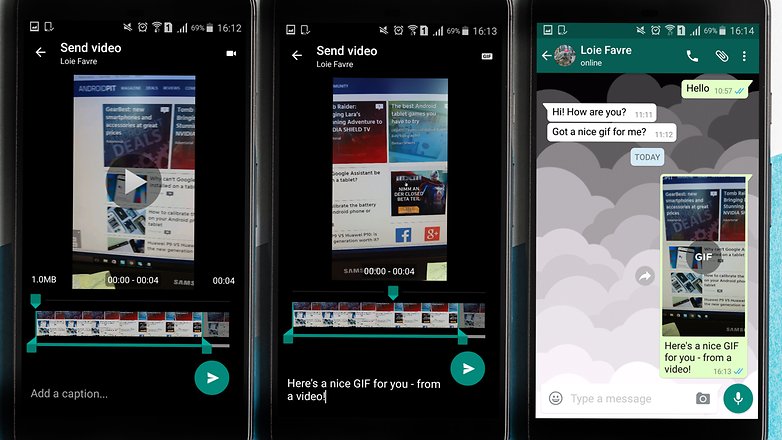 Is WhatsApp your favorite messenger? Or do you prefer another? Thanks you for your visiting on this page WhatsApp Android update: latest news