Shortly after the first Samsung Galaxy S8 and Galaxy S8+ devices had been shipped to consumers, Samsung deployed large OS update, shortly followed by another one from T-Mobile. While we are still waiting for an Android update for the Galaxy S8 and Galaxy S8+, the security patches continue to roll out. The latest news is that the Bixby Voice preview is now available in the US.
Samsung Galaxy S8 and S8+ Android update status
| Samsung Galaxy S8 | Android 7.0 Nougat | Android O |
| --- | --- | --- |
| T-Mobile | Yes | expected |
| AT&T | Yes | expected |
| Sprint | Yes | expected |
| Verizon | Yes | expected |
Samsung Galaxy S8 and S8+ Android update
June security patch
The June security patch fort he Samsung Galaxy S8+ has now been deployed internationally, arriving in Europe and India this week. While the monthly security patch normally isn't something extraordinary, June's update addresses a total of 96 common vulnerabilities and exposures.  Sadly we don't know at this point what exactly these vulnerabilities are, its probably for the better that they've been fixed. Theres are also a few minor software fixes and updates bundled in the security update, such as some new background colors for the navigation bar, as well improving the image quality of panorama photos.
Device Quality Agent issue fixed with update
US and Canadian Galaxy S8 users have complained of an error since the latest update for their devices was installed. The problem is an error message saying "DQA keeps stopping," which pops up each minute. DQA refers to Device Quality Agent, which usually runs in the background to monitor WiFi connection quality.
A temporary workaround for this problem is to turn off DQA or WiFi. But, Samsung has very quickly released an update through its Galaxy Apps store to fix the issue permanently. The update comes over the air at less than a megabyte and is labeled as "urgent".
The latest major update from the manufacturer
Samsung just released a 664.21 MB update for the Galaxy S8 and S8+. The Android version is still 7.0 Nougat and Samsung Experience is still in version 8.1. The update changes the firmware version to G950FXXU1AQDD. Among the new features, it offers more stability for new features such as DeX and Bixby, as well as for facial recognition.
Regarding Bixby, it is now no longer possible to remap the dedicated button for the virtual assistant, and two new icons have been added: one to activate the service, and another to activate Bixby Vision.

Check out the complete list of changes below:
Improved device stability and bug fixes;
Feature optimizations;
Performance improvements.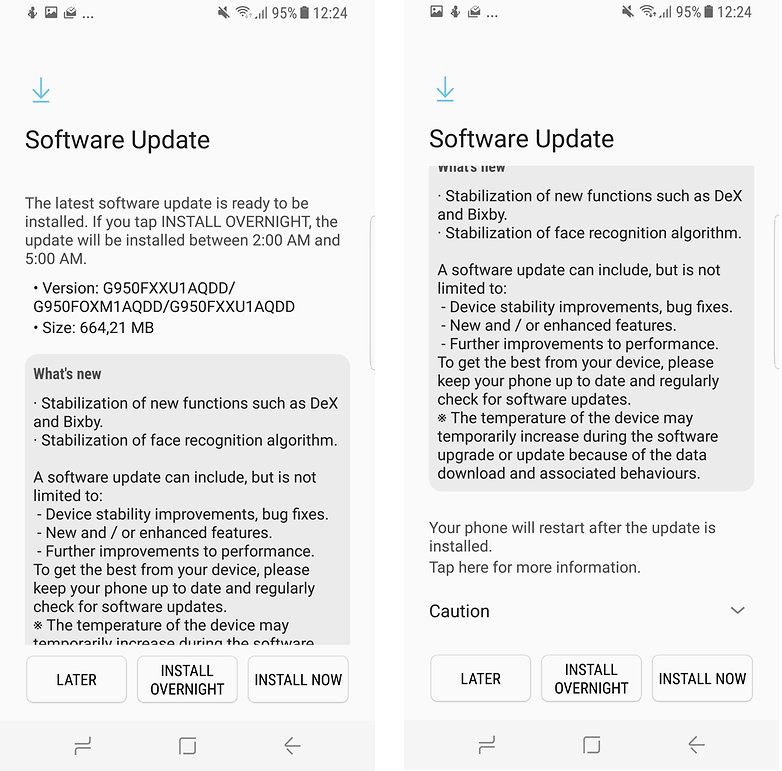 The latest update from T-Mobile
The S8 and S8+ are now getting a couple of software updates from T-Mobile to prepare them for arrival in customers' hands. These special launch updates bring April's security patch and various software improvements for the camera app, security and facial recognition. The latest update weighs in at about 390 MB for both devices.
Fast updates from a wireless carrier are always appreciated
What do you think?
For the S8, the baseband version for the first update on April 20 is G950USQU1AQD9, and the second update for April 21 is G950USQU1AQC9. For the S8+, the baseband versions are G955USQU1AQD9 and G955USQU1AQC9.
Other carriers
There's no news yet about carrier-specific updates from Sprint, AT&T, Verizon or other US wireless carriers for the Galaxy S8 and S8+. But, when we get word of when to expect updates, we'll let you know about it here.
Samsung Galaxy S8 and S8+: how to get the latest version of the operating system
To check if your device already has latest the software update, follow these steps:
Step 1: Open the Settings on your Galaxy S8 or Galaxy S8 + and scroll to the bottom. Then tap the available option, "Software Update";
Step 2: Then tap "Download updates manually" and see if any updates are available. If it exists, download the required files, and then tap "Install";
Step 3: This step can take up to twenty minutes, depending on the upgrade. When you are done, you will see a message that the process has been completed successfully.
Remember that you can always choose to have the updates download automatically from the same menu.
Samsung Galaxy S8 and S8+: Bixby update
Those who signed up for the Bixby Early Access Program in the US should now be able to give Bixby Voice features a test drive. The much anticipated, notably late feature is beginning to roll out. If you're registered as a tester, make sure you have the latest version of Bixby by checking the app's About page, then be sure to update all of the Samsung apps on your phone from the Galaxy Apps store. You may also need to clear the cache of all these apps. Then, open up Bixby and you'll be given a tutorial and prompted to set up Voice.
Using Bixby seems simple, as long as you stick to structured commands. To trigger Bixby, you can hold down the Bixby button while you issue a command or say "Hi Bixby." From there, you can follow the basic voice command structure of "Open [app] and [perform this task]." You'll see Bixby opening the app in question and following multi-step commands from screen-to-screen on its own.
The Verge reports that the experience using Bixby Voice is sluggish. It struggles to answer questions and stumbles through basic tasks like texting. Changing granular settings on your phone is its strong point, but it's nowhere near catching up to Google Assistant or Siri in terms of usability or practicality. Voice recognition seems to have a long way to go.
If you have any questions, let us know in the comments! Enjoy your new Samsung flagship.
Thanks you for your visiting on this page Samsung Galaxy S8/S8+ Android update: latest news