BlackBerry DTEK 50 software
The DTEK50 runs stock Android Marshmallow with a few BlackBerry-specific additions. The chief focus of these, as you might expect, is organization/productivity and security. He's a rundown of what you'll find.
Swipe shortcuts
A swipe upwards of the home button will provide access to three customizable shortcut buttons. I'm a sucker for shortcuts and this feature ticks all the boxes: it's inconspicuous – it will never interfere with how you would normally use the device if you don't want to make use of it – and allows me to access the holy messaging trinity of WhatsApp, PushBullet and Facebook Messenger in a swipe. You can choose the apps found there, or ignore the feature completely.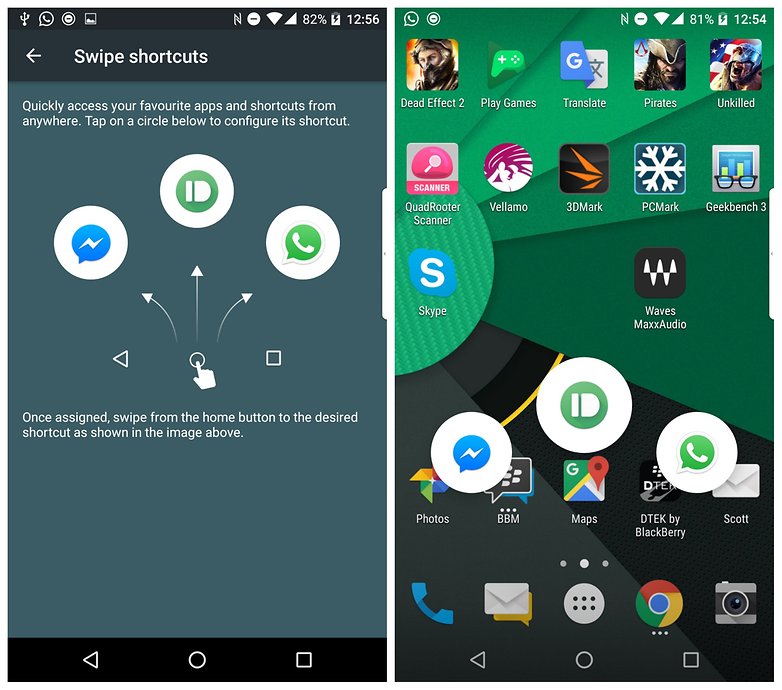 Productivity tab
BlackBerry makes use of a slide-in sidebar which contains shortcuts to favorite contacts, calendar events, tasks and unread messages. This presents another good way to stay on top of your schedule. Swipe in from the right-hand side of the device to bring this into view for a quick glance at the above elements. Like the device, this is unlikely to appeal to those who aren't concerned with productivity, but the unread messages tab may be the exception.
I found this useful for navigating my multiple messaging and email apps, the contents of which I check only every few hours. This tab, which integrates with the BlackBerry Hub app (pre-loaded onto the device) makes it easy to catch up on what you've missed throughout the day.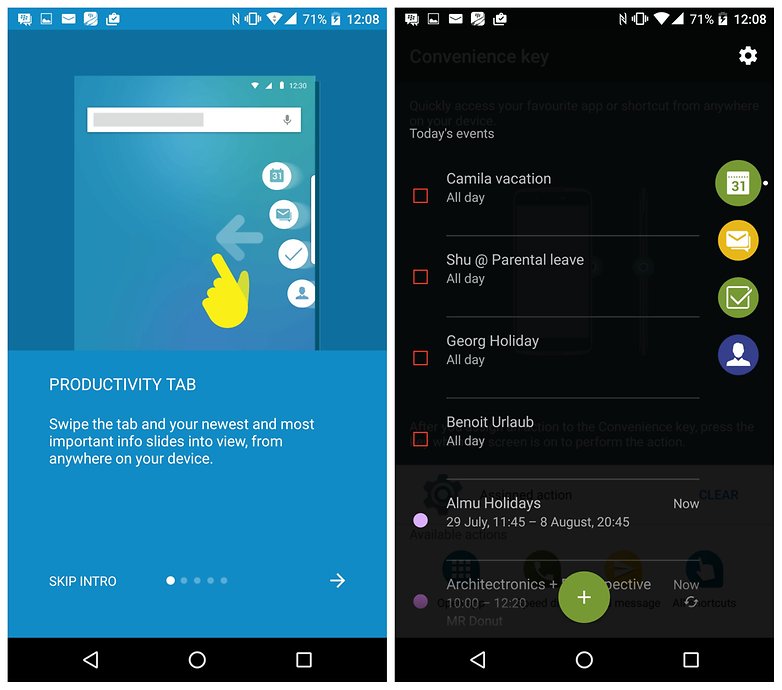 Speaking of the BlackBerry hub, this dedicated app provides an intuitive interface where you'll find all your upcoming events, received texts, emails and other messages. It displays content from multiple apps, where messages arrived from and whether they have been viewed, with the help of some simple colors and icons. It saves checking five apps to retrieve this information and I love it, but BlackBerry has recently made this app available to smartphones running Android 6.0 Marshmallow or later, so it's not an exclusive feature.
Convenience key
The convenience key, the aforementioned shortcut button found on the right side of the handset, can be assigned to a number of actions. Tap it to create a new email, for example, or open your calendar, if you wish. Similar hardware buttons can be found on a few Android devices now and they're worthy additions for people who like to tinker with device controls. Aside from initial confusion with what it does, once I began using it, I quickly began to appreciate it.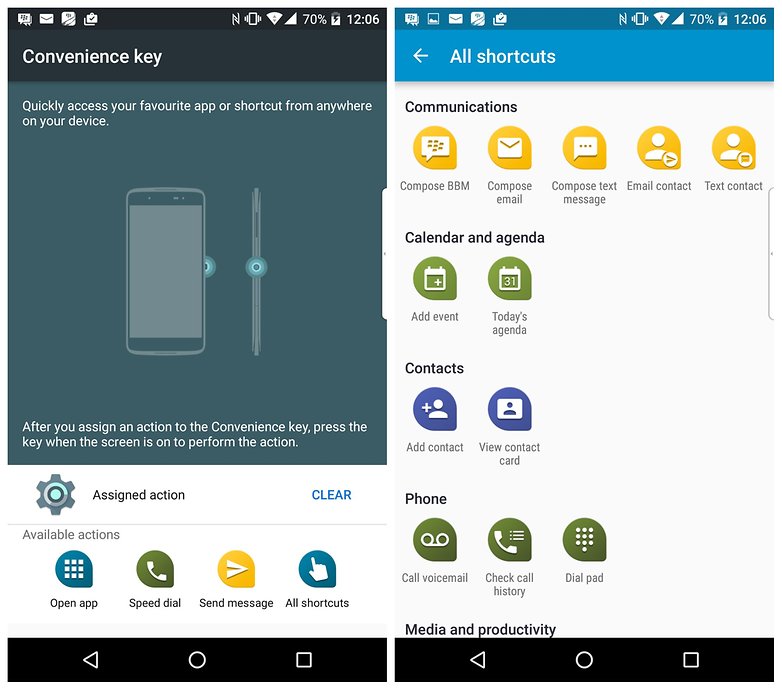 Security
One of the biggest sells of this Android device is security. The DTEK50 includes BlackBerry's DTEK app – first seen on the BlackBerry Priv. This provides a list of device-protection suggestions which are color coordinated based on priority. Want to increase your overall security level? Go through the list and switch on or turn off individual device features.
This is a simple way to make security issues clearer and more easily interpreted, however, its simplicity is also the other edge of this sword. I appreciate that I work for an Android website, but this feature mostly includes details I'm already aware of, details that I'm sure most users are already aware of. I know using a lock screen PIN code will mean my device is more secure than not using a lock screen PIN code, for example.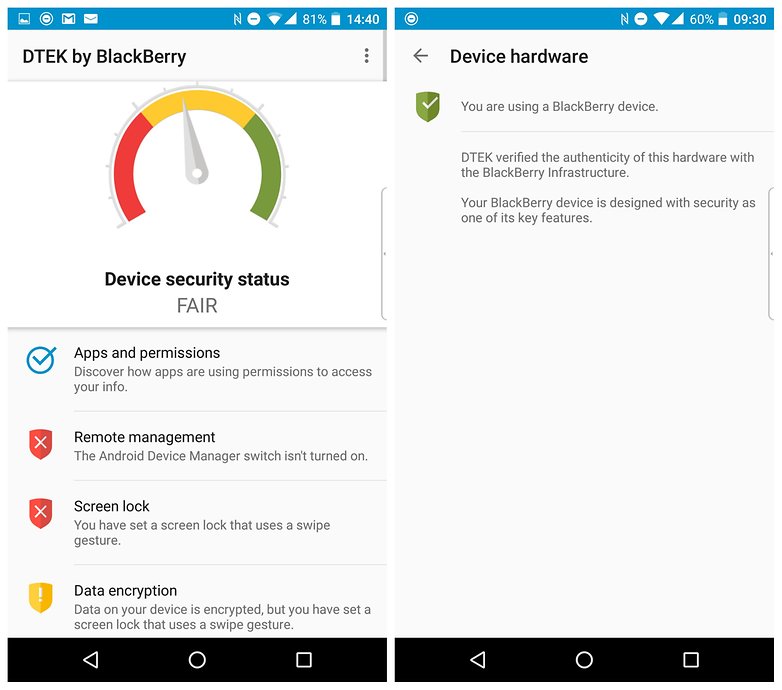 Besides security advice, which can be gleaned from a Google search, sections like "Device hardware" give you a big green tick for simply "using a BlackBerry device", but it's not clear from the software interface what this exact benefit is. What is inherent about the physical hardware which makes the BlackBerry device more secure? The supplied documents also lacked this information.
BlackBerry delivers the enticing promise of same-day Android security patches
This security guide for BlackBerry-powered Android is where I found all the details on the security benefits. Essentially, BlackBerry has delivered a "hardened" kernel, verified bootloader, enhanced memory protection, full-disk encryption, SD card protection, advanced Wi-Fi authentication and the enticing promise of same-day Android security patches. 
What this all means is that the BlackBerry DTEK50 is a more secure brand of Android handset than what you'll find from the vast majority of other manufacturers. Is it the most secure phone in the world? I can't verify that, but based on the evidence at hand, I don't see why it wouldn't be.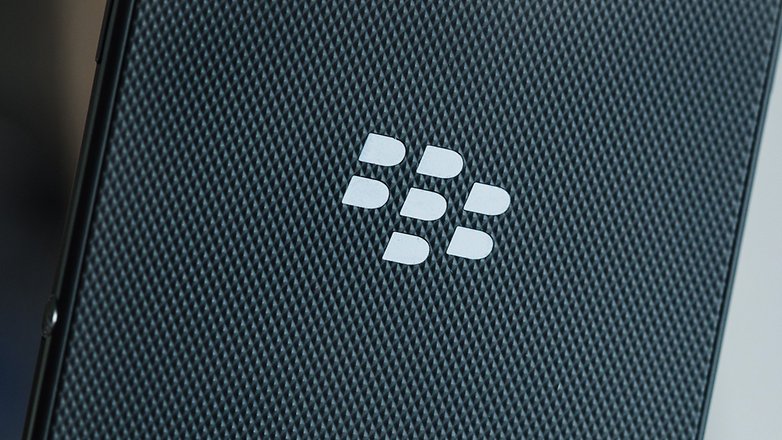 Keyboard
Unlike the Priv, this BlackBerry doesn't include a physical keyboard, but BlackBerry's own keyboard app. This features some interesting ideas, namely in the way it uses predictions.
It's an efficient keyboard but I still switched it for SwiftKey
The BlackBerry Keyboard highlights several predictions after every word, which hover above the related keys. To give you an example, if you type the letters "rele" you may find the word "release" above the A key and the word "relevant" above the V key. Swipe upwards on either letter to insert that word into the text.
It's an efficient keyboard. A useful keyboard. But after five days of use, I still returned to SwiftKey.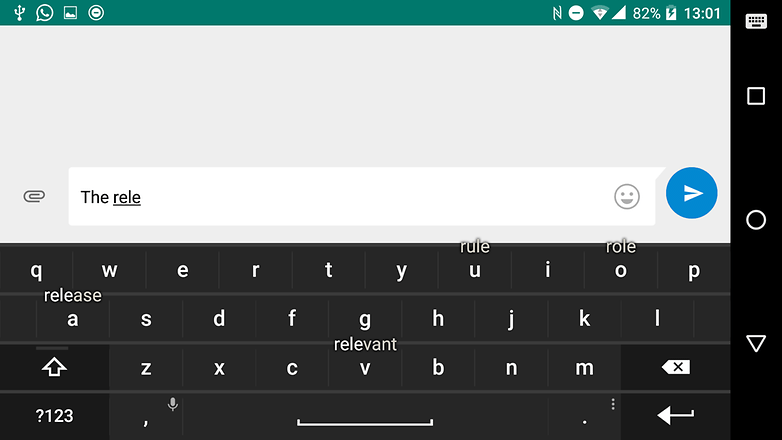 WAVES MaxxAudio
MaxxAudio by Waves is an audio app which can't be picked up in the Play Store; it's available on only a handful of Android devices. This is a property BlackBerry has done well to include on its device and it's the perfect pre-installed app to show off what are uncharacteristically good speakers.
It's essentially a fairly by-the-numbers EQ, with a few rotary controls and a graphic below, but it can really add some polish to the final audio output, both through headphones and through speakers. Just know that the bass levels can only be turned up so high in these little smartphone speakers.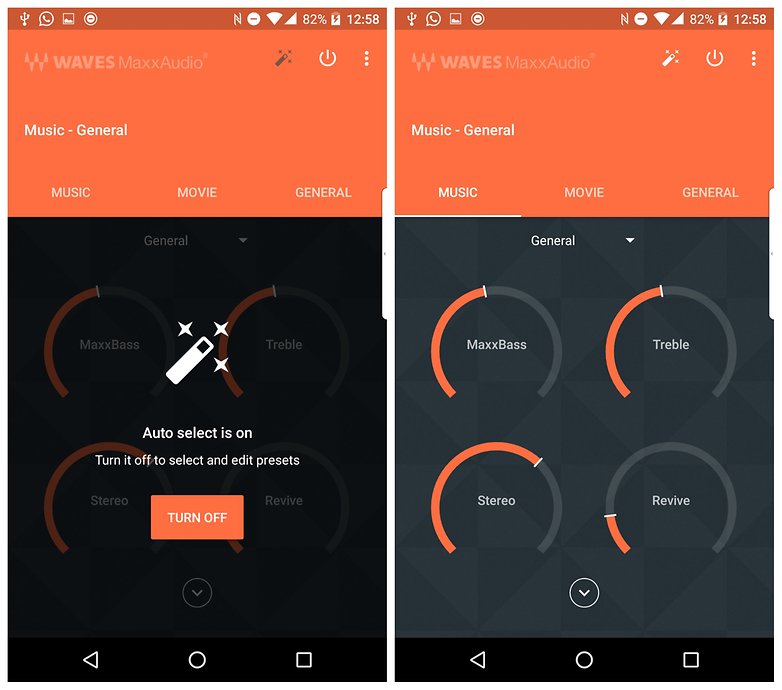 Gestures and other extras
The BTEK50 features double-tap-to-wake, which locks or wakes your device with a double tap on the screen, but it's just a fraction too slow to wake up for this to be something I would make use of.
You can customize the way apps are shown in the recent menu (accessed by tapping the square button at the bottom right of the display), with the default setting being "masonry", which gives each app a different sized block. In this view, I could always find what I wanted quickly, and it strikes me as more useful than the typical recent apps wheel, though that style is still an option.
BlackBerry also includes its BBM messaging app, a secure messaging service recently upgraded with free video calls. This can be picked up for free from the Play Store on any Android device running version 4.0 or higher.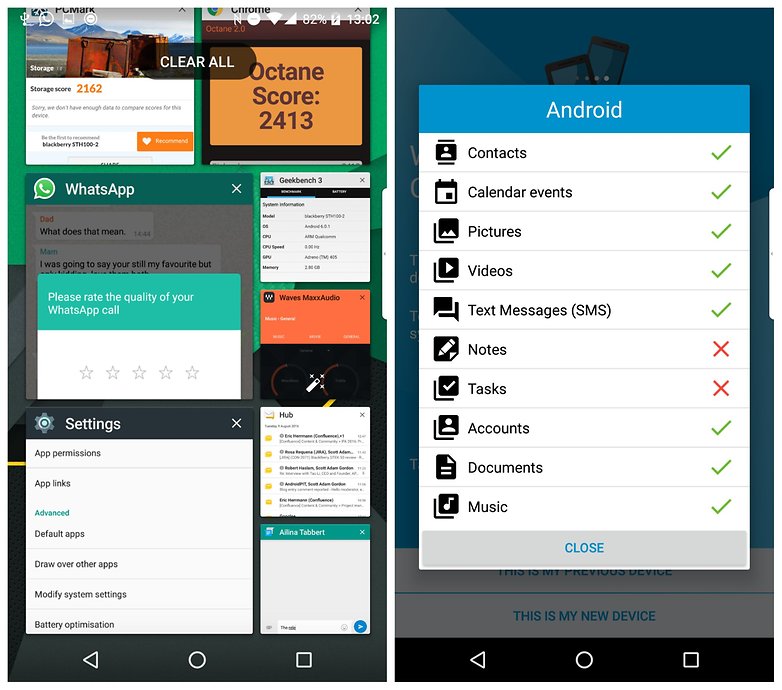 Lastly, BlackBerry has its own Content Transfer app which helps to transfer content from a previous device, be it BlackBerry, Android or iOS, to the new device. iOS to Android transfer is quite limited on what can be transferred but Android to Android features the majority of device contents, which is welcome.
The DTEK50 features a healthy suite of extras. They're largely useful, and where they're not, they're easy to ignore or switch off. For me, BlackBerry has gotten this part of the product right.
Thank you for your visit on this page BlackBerry DTEK50 review: playing it safe