With the U-Series, HTC enters the post-One smartphone era. While the U Play and the U Ultra were met with rather limited buzz, the flagship HTC U11 quickly received great reviews and also impressed us in our review. But how has it fared after 100 days of active use? Does the fascination and novelty quickly wear off, or is the good first impression reinforced? After the honeymoon, here are my observations of the HTC U11's positive and negative aspects.
Pro: Performance
The HTC U11 is very well equipped with an octa-core Snapdragon 835, 4 GB of RAM and furthermore sports very lean software. This ensures that the U11 blazes like a rocket. I haven't had a smartphone that quickly and briskly blazed through menus, apps and websites like the does HTC U11 since the Google Pixel and OnePlus 5. Anyone who truly believes that 4 GB RAM is not enough for a flagship in 2017 should really look into spending a few minutes with the HTC U11—it doesn't take long to truly get a sense of this.
Con: Edge Sense
Edge Sense is one of the U11's highlights for HTC—but not for me. At first, I also thought the idea of squeezing the bezels was exciting, but I turned off Edge Sense after two weeks. To put it bluntly, there is hardly any added benefit in day-to-day use, quite the contrary. Photos that are shot with the squeeze gesture blur a lot more easily since you cannot hold the phone completely still. And the HTC U11 constantly detects squeezing from the sides when placed in my car holder. Edge Sense also always starts unintentionally when you hold the phone a bit too hard. In my opinion, HTC should have saved itself the trouble.
Pro: Sound
HTC has often had a lot to offer in the sound department—the BoomSound speaker comes to mind, for example. I was mainly impressed with the HTC U11's overall sound via the included headsets. As soon as I scanned my own inner ear using USonic feature, which you can do in a few minutes, the headphones emit an impressively warm and balanced sound. And best of all: thanks to active noise cancellation, the disruptive noise around you is kept almost entirely out. The headset is also comfortable and light as a feather, which means I'll gladly do without the old headphone jack in this case.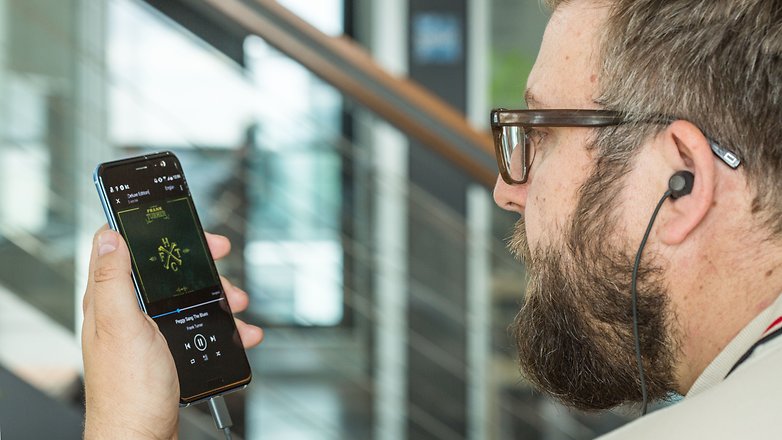 Con: The display constantly turns on
At first, the display wake of the U11 simply drove me insane. The smartphone constantly woke up unintentionally from standby mode and performed actions that I didn't want, like skipping through music tracks. The touchscreen is incredibly sensitive, just like the home button, which by default, wakes up the display when touched in any way. Luckily these two points can be solved for the most part with two options in the system settings. Tap-to-wake should be turned off, along with the "wake up display" option for the fingerprint sensor. Only then will the HTC U11 remain off when it should.
Pro: Rear design
When I saw the first images of the HTC U11, I thought: "Holy smokes, what is this!?". But that impression quickly subsided when I looked at the U11 in person and held it in my hand. The blue version truly looks snazzy and is a bona fide eye-catcher, although the red HTC U11 is even snazzier, shining from red to gold and simply looking fantastic. In an age when smartphones deliver the same old thing, such particular colors and design stand out from the rest and makes it fun. However: The HTC U11 will always become greasy and somehow look dirty without frequent cleaning with a cloth.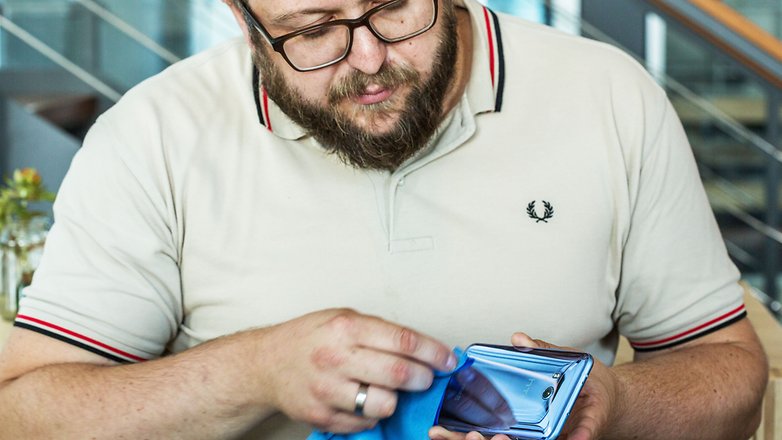 Con: Front design
On the flipside, I find the front of the HTC U11 to be plain and actually a little boring. Black glass from top to bottom, no logo, no always-on display, and only the home button is slightly recessed. Yes, there are Android buttons to the right and left of the button with the fingerprint sensor, but they are not even placed in the middle of the smartphone's wide bottom end; rather, they are situated a bit too low. The wide bezel around the display makes the HTC U11 look very long from the front and does not match the snazzy rear.
Pro: Battery
The HTC U11's battery has a 3,000 mAh capacity. On paper, it's not very much for a high-end smartphone with a 5.5-inch display and high-performance chip. However, the HTC U11 has not let me down a single time stamina-wise in day-to-day use. It's really feels like no matter what you do with this phone; it simply doesn't give up before bedtime, and that's something that I cannot do with just any smartphone. The battery is then quickly full again thanks to a charger with Quick Charge 3.0.
Con: Robustness
With devices we review, there's no reason not to be as careful as we would with our own stuff. But, of course, a smartphone is a commodity you can't (and for reviews, shouldn't) always handle with kid gloves, which can also leave some signs of wear, too. The HTC U11 slipped from my hand ONCE from knee-height during the review period and yet, the display glass immediately cracked. Either I had a ton of bad luck or the HTC U11 is simply not particularly solid. The housing still has virtually zero scratches on the front and rear though.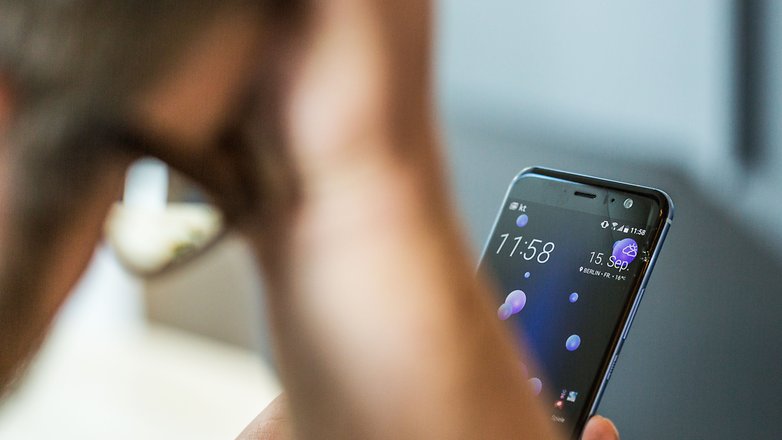 Undecided: Camera
When it comes to the camera, I simply cannot decide if it's a "Pro" or "Con" and that's probably just due to my personal preferences. Since the advent of dual cameras, I like playing around with different focal lengths and many different looks. When I mainly take pictures of people—and I do that quite often as a father of two little children—I like using a beautiful bokeh effect, which give the photos a natural touch. Even tele or wide-angle lenses are very charming to me. But the HTC U11 cannot offer me all this, which I think is such a shame.
On the other hand, the 12-megapixel camera in the HTC U11 is truly excellent in its own right when it comes to speed and picture quality. The U11 can easily stand up to comparison with other high-end smartphones such as the Galaxy S8. Its camera is by no means bad, but I just think that there is a lack of extra goodies that dual cameras bring nowadays and that I find fun when taking pictures.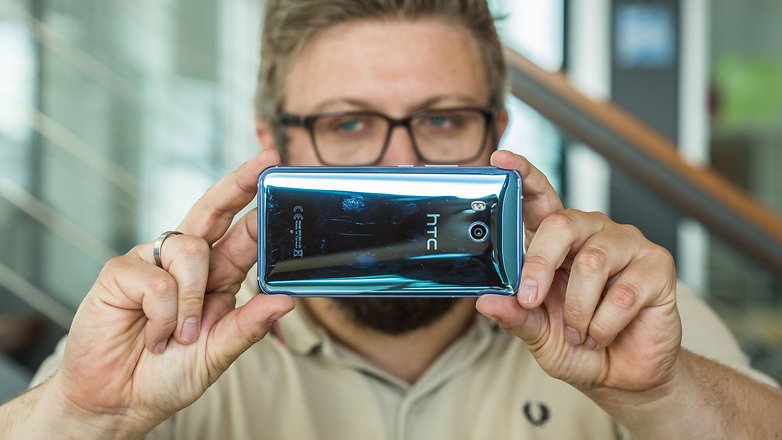 Summary
All things considered, I still think the HTC U11 is loads of fun. I was pleased with the performance and lean system. And the sound quality when listening to music is simply superb. In my opinion, the pros very clearly outweigh the smartphone's cons. If only I hadn't dropped it…
Are you currently a happy HTC U11 owner? What's your experience been like?
Thanks you for your visiting on this page 100 Days with the HTC U11: When your ears ring with joy